Category: Hockey
Year of Induction: 2018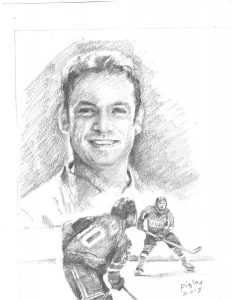 Dax MacLean was a talented and gifted scorer who excelled at every level of hockey he played.
Throughout his minor career in Chatham, he was a perennial all-star who was always at or near the top in scoring, leading Chatham to a Provincial Atom Championship in 1989.In 1991 he led the "AAA" Midget Rivermen to a Provincial and then, Atlantic title. He finished in the top three in scoring and was named to the all-star team. In 1993, he was the league MVP, all-star, and runner-up in scoring.
In 1993 he joined the Notre Dame Hounds in the SJHL where he became a two-time all-star and team scoring leader in 1994-95.
In 1995, Dax attended UNB where he established himself as one of the premier players in the country. He was an all-star as a rookie and then led the Varsity Reds the next year to a silver medal at the CIAU Championships. In 1997-98, he was a key cog in their first CIAU title. That year he was the team's scoring leader, league MVP and Most Sportsmanlike, and All-Canadian First Team forward. In his final season, Dax became UNB's all-time leading goal scorer; a record he still holds. He became the school's only two-time Mark Jeffrey Award winner as well as the Male Athlete of the Year. In 2011 Dax was voted to UNB's All-Decade team and his 1998 team were inducted into the Fredericton Sports Wall of Fame.
Since 2011, Dax has been extremely active in the development of hockey players in the Fredericton area.
The Board is pleased to induct such a talented ambassador to the Miramichi Sports Wall of Fame in the same year as his father's induction.