Category: Baseball
Year of Induction: 2018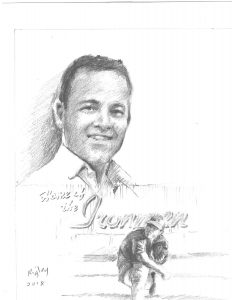 "Matty" Jenkins' career with the Chatham Ironmen spanned 17 years. He will go down in their lore as "one of the greatest ever". He was an extremely talented and versatile shortstop-pitcher who could beat you on the mound, at the plate, or in the field. He was a fierce competitor who excelled in pressure situations.
Prior to his senior career, he starred for the Chatham Junior Ironmen and was named MVP in 1995 at the Atlantic junior Baseball Tournament. The previous year, he played for Rhode Island junior college at the Collegiate World Series.
His stats in the NB Senior League speak for themselves. He either led or was close to the top in several hitting and pitching categories. He was an All Star five times and Best Defensive player four times.
Matty held Ironmen records for most pitching wins (58) and most strikeouts (711); surpassing even the legendary Ray Royce. His hitting statistics are equally impressive. His career batting average of .326 ranked eighth while his total runs, hits, doubles, triples, home runs and rbi's all ranked in the top ten all time.
Matty either played or was asked to play in every Canadian Senior Baseball Championship from 1996-2011. He earned two gold and one silver medal as a member of the St. John Alpines, a bronze with the Chatham Ironmen and two bronze with the Fredericton Royals. He was also inducted into the NB Baseball Hall of Fame as a member of the Alpines.
As a result of his excellence in and dedication to baseball, Matty is a welcome addition to the Wall of fame