Category: Coach, Hockey
Year of Induction: 2018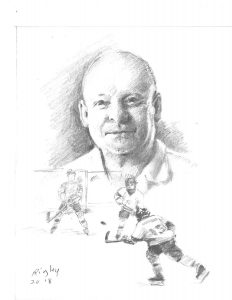 Paul MacLean was one of the most well-known and respected leaders in the Miramichi sports scene. His enthusiastic, dedicated service to the Chatham Recreation Council spanned five decades.
From 1972-87 he was a coach with the Bantam "AAA"s, winning a number of provincial titles, as well as Silver and Bronze Medals at the Purolator Cup. From 1987-94 Paul coached the Pee Wee "AAA" team. He was instrumental in the amalgamation of the Chatham and Newcastle minor hockey programs. Paul also managed "AAA" baseball teams at several levels, winning 3 provincial and one Atlantic titles and a Silver at the Midget Nationals.
Paul served as a Director on Hockey New Brunswick's Board from 1994-2002, and on the Senior Council from 2006-16. He was also the Regional Coordinator for NB Centre of Coaching Education from 1997-99.
Following his coaching years, Paul organized and operated the Summer F.U.N. League, which offered players of all ages the opportunity to hone their hockey skills in a fun, safe environment. He expanded this concept to a F.U.N. Men's Winter League. Following his death, the teams renamed it the Paul MacLean F.U.N. league in his honor.
In 1989, Paul received the prestigious Ian Baillie Memorial Award for volunteer service to the CRC and in 1991 a CAHA Volunteer service Award for minor hockey.
Besides striving to develop the athletic skills of Miramichi youth, Paul MacLean strove to develop good people for his community. For all these reasons, he is a welcome addition to Miramichi's Wall of Fame.